One
2015 is in the books. Another holiday season behind us and a brand new year in front of us. This time of year often leads to reflection and a dedication to doing something better with the days that lay ahead. Too often we get so caught up trying to make these monumental changes from some missed steps the year before, we forget about the small victories that defined a year's worth of progress. Over time, those small victories add up, thus making the big picture that much clearer.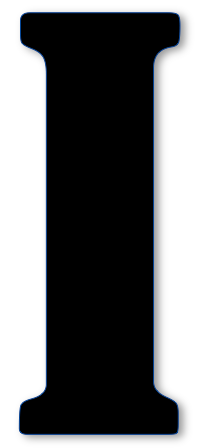 As we embark on 2016 here at Spoonwood, we find ourselves on the cusp of celebrating our first full year serving you, our family and friends, the best beer, food, and experience we can deliver. It's been a successful year filled with victories both big and small, as well as many learning experiences. And though our doors opened January 31st, 2015, we feel a little older than the number represents since several months and a considerable amount of sweat equity were invested in taking Spoonwood's initial vision to full operating brewery and restaurant.
The story began when co-owners Grant and Mary Lou Scorsone decided to throw caution to the wind and bring the brewpub concept to the South Hills of Pittsburgh. They partnered with Steve Ilnicki, who also serves as our Head Brewer, and his wife Patti to capture the essence of brewpub locales across the country and create a new destination built on a solid foundation of good beer, good food, and welcoming ambiance.
We'll be the first to admit the road hasn't always been the smoothest. When starting any venture from the ground up, it's easy to understand the short comings will unfold…but impossible to predict when. Without questions, it's inevitable certain things will force you back to the drawing board. Mistakes happen. But we look at each misstep we've made as a learning experience that makes us a little wiser the next day and beyond.
Our first year has been one that's helped us grow, helped us learn, and helped us improve our practices to ensure we exceed your expectations every time you cross our threshold. We can't get around it: we like the cut of your jib. We enjoy seeing you bellied up to the bar talking about the beer in front of you. Why do you like it? Why do you not? It's all part of that subjective experience that helps us present an experience where there's truly something for everybody.
One year is just the beginning. Our baby teeth aren't even loose yet. We've got so much to look forward to in 2016 and so much more to offer you. But before we look ahead, let's take a look at Year One:
The Beer
2015 saw ingenuity and creativity wafting from the brewhouse as Head Brewer Steve Ilnicki and Assistant Brewer James Evans zeroed in on some wonderfully unique beers. The year closed with the Dynamic Duo (jury's still out on who Batman is) brewing 72 total batches of beer, including 39 different beer styles and approximately 900 total barrels racked.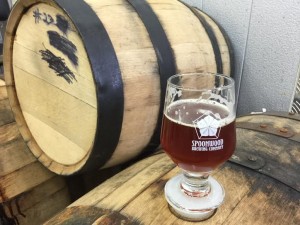 It's this writer's humble prediction that 2016 is going to bring Pittsburgh a considerable amount of barrel-aged beers. Many of our local breweries have been aging base beers in a variety of different barrels, some from local distillery Wigle Whiskey, others gained from partnerships with wineries and distilleries across the region and country. At Spoonwood, the brewhouse has several barrels working their magic, adding complex layers of enhanced flavor notes to a variety of our base beers. Some of those lucky beers resting comfortably inside their wooden receptacles include:
Dead Goon Imperial Stout in Woodford Reserve barrels – this little number will be tapped during our Anniversary festivities on January 28th! More on that in a moment…

Astrid Belgian Pale Ale with Brett Brux in rye whiskey barrels – some of this will be pouring at Wigle Whiskey and East End's Good Wood Festival at East End Brewing on 1/16

Collapsium Barleywine in Wigle Landlocked AND Straight Rye barrels

2 Minutes to Midnight (collaboration with Caliente Pizza & Draft House) Russian Imperial Stout in Straight Wheat barrels

Old Tenderfoot Old Ale in Straight Rye AND Straight Wheat barrels

Barley Storm Winter Warmer in Wigle multi-grain whiskey barrels
There's also rumor floating from the brewhouse that a couple newly-acquired Wigle bourbon barrels may be used to age small quantities from upcoming batches of Smoke & Oats and Cold Drip City, as well as a Brett Brux spiked Killer Diller in a rye barrel. Don't touch that dial…
Of all the beers that hit the kettle and, ultimately, your mouth in 2015, Steve's personal favorites were Bruna, Elise, Smoke & Oats, Good Eye Sniper, Dead Goon, Freemang, and Collapsium.
"And I still love brewing and drinking Killer Diller, even after all these (ahem) months," Steve admitted. "I tweak the hops portion of the recipe almost every time I brew it to keep things interesting and to continually improve upon the product."
We've got two big collaborations upcoming, too. The aforementioned Two Minutes to Midnight is a special collaboration beer we did with Caliente Pizza & Draft House and will be released in bottles and on draft in the very near future. It's a big Russian Imperial Stout brewed with chocolate, vanilla, and chili peppers. Also, there's another collab in the works…but I'm not going to spill the beans on that just yet. Patience, children…
The Spoonwood brand has spread throughout the Pittsburgh region in stellar fashion in one year's time. You can currently find our beer proudly pouring in over 50 craft beer destinations across town, with a select few featuring tap handles dedicated primarily to Spoonwood. As 2016 rolls on, we look to increase our reach to even more locales, bringing Spoonwood to your neighborhood no matter what corner of Pittsburgh you call home.
The Food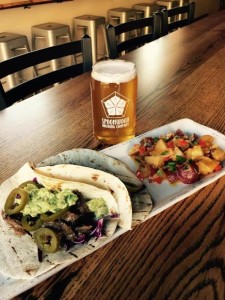 A brewpub earns its reputation by delivering sound beer options paired with diverse food offerings. For the past year, Spoonwood has made tremendous strides to always keep both menus fresh and plentiful, and I think that you would agree. The food menu has experienced a few reincarnations since we first opened our door, including our most recent this Fall, but our mission to deliver exquisite cuisine to complement our craft beer selection has never wavered.
From pulled-pork nachos to bacon-wrapped shrimp to fish tacos to our off-the-chart meat and marrow dish, the menu Executive Chef Jeffrey Simpson and his team has executed is one designed to satiate any sized appetite. The wood-fired pizzas are a staple and, as you probably know, are the perfect complement to any beer. Spoonwood's food lineup has also been graced with standard bar menu items, such as chicken wings and gourmet hot dogs. Just like in the brewhouse, our chefs are determined to test the waters and create culinary masterpieces at every juncture.
This past September, Spoonwood Brewing held its first Beer & Food Pairing Dinner and truly showcased what both ends of the house are capable of. The dinner brought close to 40 craft beer and food enthusiasts together for a fun-filled night of drinking, dining, education, and friendship. The six-course meal was carefully prepared and paired with a Spoonwood beer that accented the dynamics of both products. Another Beer & Food Pairing Dinner is scheduled for Tuesday, February 9th in our taproom. Details about how you can attend what's sure to be another superb event will be available soon.
For a full recap of September's dinner, click here.
Sunday Brunch was also a wonderful addition to our food offerings at Spoonwood. From 10:30am – 1:00pm every Sunday, the taproom is filled with the glorious smells of eggs, bacon, sausage, and other breakfast items that not only pair well with several of our beer choices, but help bring some levity back to your world if you overindulged on your favorite adult beverages the night before. As a writer, it's difficult to do the Brunch menu justice with mere words. My recommendation is to make your reservations and bring your friends and family to experience it first-hand!
Thank You
To wrap up, it's really quite simple. We make beer. We make food. We create a warm and convivial atmosphere. And absolutely none of it would be possible without you. We are humbled you choose Spoonwood Brewing as your destination of choice and, from each and every one of us, we can't possibly thank you enough for being part of the family. From the bottom of our hearts, we look forward to seeing you at the taproom again soon, and many, many times over in the future.
One Year Anniversary Festivities Schedule
It wouldn't be a first birthday without a party, right?! Who knows, we may even get a smash cake and make like a true one-year old. But while we contemplate that, here's what we know is on the docket for a really fun week: