What American Craft Beer Week Has Inspired
We are living in the golden age of American craft beer. You needn't look any further than the number of bars featuring artisanal beers and the number of breweries rising up across these 50 states to know that craft beer culture is strong. On a daily basis, consumers identify with numerous brands and eagerly seek out offerings from their countless breweries, building loyalty with an overall movement just as much as with specific brands.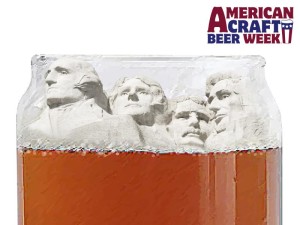 In 2006, the Brewers Association took what was formerly celebrated in July and known as American Beer Month and transformed into a week-long coordinated effort combining the efforts of independent craft breweries and the establishments that support them across the country. Now known as American Craft Beer Week, this seven-day period focuses on everything our nation has accomplished from a craft beer perspective and represents the largest national effort focusing on the beverage we hold so near and dear to our hearts. In 2015, 2,018 breweries across 50 states participated in events and celebrations of some capacity for American Craft Beer Week.
2016's American Craft Beer Week runs from May 16th to May 22nd and has introduced the biggest collaboration beer project ever assembled. One recipe was created and is being brewed at multiple breweries in all 50 states across America. The beer in the spotlight is a dry, roasty Irish Stout that you'll most likely see hit your social media feeds this week accompanied by #ACBW, #MakeSmallBeerBig, and #BiggestSmallBeerEver.
American Craft Beer Week has served as the catalyst and inspiration for over 100 cities to host their own Craft Beer Weeks designed to place emphasis on local, homegrown beer culture. Here in Pittsburgh, we're just a few weeks removed from our own Craft Beer Week and look forward to continued evolution and growth in our city's beer landscape and how that landscape is celebrated. We have more breweries set to enter the mix in the upcoming months and, without question, they'll be bringing more quality product to the market for everyone to enjoy.
Most importantly, American Craft Beer Week has inspired men and women to master their craft and conceive creative beverages of the highest quality and standing. We are reaching a critical point in the craft beer world with nearly 4,500 breweries of varying sizes now in operation and hundreds more in planning. In fact, on average, 1.2 breweries are opening a day and many, many options are at your disposal. This mean's quality is key.
Pittsburgh is a hotbed of craft beer right now and the scene is booming. Spoonwood Brewing is proud to be part of this community and introduce innovative, creative, quality beers to you and all craft beer enthusiasts across the region. We recognize the hard work and dedication our fellow breweries across the country do on a daily basis and raise our pint glasses to everyone in the industry that gives us a reason to celebrate this week. And, equally as important, we raise a glass to you, the craft beer enthusiast who consumes our product, gives us your feedback, and inspires us to keep the brew kettle active.
We invite you down to Spoonwood this week, and every week, for a celebration of America. Craft beer style.