Spoonwood and Caliente to Join Forces
A collaboration beer is a special brew designed and constructed by two or more entities that allows the talents of all those involved to shine. Working collaboratively exemplifies the camaraderie the craft beer industry has and presents a product to enthusiasts they don't find on an everyday basis. Typically, collabs are born when multiple breweries come together. But, as we are about to learn, inspiration to build a great beer doesn't just come from a brewhouse.
Caliente Pizza & Draft House has become one of the premier craft beer destinations in the Pittsburgh region. Their locations in Bloomfield and Hampton Township are dedicated to featuring the highest-quality, most unique beer selection in the city paired up with their award-winning signature pizzas. Their name rose to prominence during Pittsburgh Craft Beer Week 2013 and they continue to use those 10 days as the ultimate stage to showcase themselves, holding close to 25 killer events across both their venues.
Caliente has also shown strong affection for local craft beer and consistently features offerings from Pittsburgh craft breweries year-round. They hold local tap takeovers during the Beers of the Burgh festival and hold monthly First Friday Firkin events featuring a unique beer from Pittsburgh breweries on the first Friday of every month. Spoonwood is proud to be the featured firkin brewery at Caliente's Hampton location, while Helltown Brewing taps firkins on First Fridays in Bloomfield.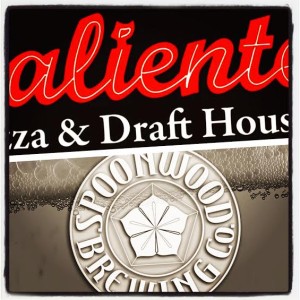 In 2013, Caliente took their allegiances with local breweries to a new level. Instead of just featuring local beers on tap, they began partnering with them to brew special collaboration beers sold at their locations and the host brewery's, too. The debut beer was made in conjunction with Church Brew Works' Head Brewer Matt Moninger, who now works directly for Caliente as their Head Bartender in Hampton. His years of brewing experience made him a natural lead for Caliente's collaboration efforts, which has beers made with Church, East End Brewing Company, Draai Laag Brewing Company, and Yard's Brewing in Philly to its credit.
Click to learn more about Caliente's collaboration beers.
Now, I am proud to announce that Spoonwood Brewing and Caliente Pizza & Draft House will be joining forces to brew the next beer in both their respective portfolios. Both sides are looking forward to the project and, inevitably, an awesome beer will be your profit. We will be providing consistent coverage of the making of this beer and will be doing special launch events in lockstep with Caliente, including a bottle release party and special tappings at our brewpub in Bethel Park, as well as at both Caliente locations!
Here are some of the important details you need to know:
WHO: Caliente and Spoonwood
WHAT: An incredibly big Russian Imperial Stout set to weigh in between 12-13%, just in time to keep the blood warm for the upcoming Winter months
WHEN: We are scheduled to brew this beer the first week of December and will have it available for your consumption at the beginning of 2016
WHERE: Our collaboration stout will be available at Spoonwood Brewing and Caliente Pizza & Draft House on tap. We will also be releasing a limited amount of bottles, too!
WHY: Because we love craft beer camaraderie, collaboration, and all you guys!
Stay tuned for more news about this big beer coming to life.
Cheers!