Smoke 'Em If Ya Got 'Em
by Jason Cercone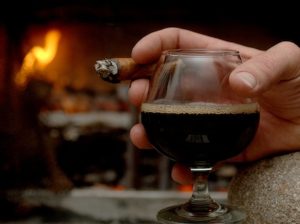 It was less than two weeks ago that we watched the Pittsburgh Penguins win Game 6 of the Finals and bring the Stanley Cup back to Pittsburgh. There was something in the air that fateful Sunday evening that made me believe glory was about to be bestowed upon the Pens. Seven years to the day, they beat the Detroit Red Wings in Game 7 of the 2009 Stanley Cup Finals to secure the franchise's 3rd championship. I grilled some delicious wings and paired them with a growler of Forever Single prior to the opening faceoff. The weather was perfect for pregame porch drinking. Everything seemed to be coming up roses.

But as the first period was nearing its conclusion, I realized one important element was missing from the good juju wafting through the air at my humble abode: a cigar to light up when the fat lady sang.
I used the first intermission to run down the street and grab what they had at my neighborhood six-pack shop. Nothing special, but it served its purpose. I stood on my front porch with an imperial stout in one hand, cigar in the other, happy our boys had reached the ultimate pinnacle and had earned the recognition they deserved as this year's best team in the NHL.
Cigars are awesome. They've been a symbol of celebration for hundreds of years. Back in the day, a soon-to-be father's only job was to stand in the hospital waiting room handing out cigars while his wife gave birth. The late, great Art Rooney was rarely seen without a cigar in his mouth. Fidel Castro made the damn things famous and cigars produced in his country are one of the smoothest, most sought-after products cigar aficionados desire.
Throughout the years, cigars have been the quintessential complement to a variety of whiskeys, bourbons, and wines. But, as luck would have it, cigars also pair incredibly with craft beer! This couldn't work out any better because we have a bunch of that on hand at our brewery.
We like to put two awesome things together. Hence, Spoonwood Brewing is proud to join forces with Dirty Dog Cigar Shoppe to host our first-ever beer and cigar pairing: Smoke 'Em If Ya Got 'Em! This event takes place Friday, July 1st at 7:00pm on the patio and side yard of our brewery and gives you a wonderful opportunity to discover how different cigars pair with different beer styles. The crew from Dirty Dog is preparing a special pairing menu and will have a variety of stogies available for sale. They'll also be dropping some education so you get the best possible pairing. Spoonwood's famous Smoke & Oats Smoked Amber Ale will be back on tap for the event as well.
Plus, unconfirmed…but one of our beers that's been hanging out in a Wigle barrel may get unleashed for this event. Keep that one under your hat for now, we'll let you know closer to event time whether that's going down.
What to take from this post:
Beers and cigars go together like Kardashians and drama

We are going to pair beer and cigars with Dirty Dog Cigar Shoppe on July 1st at 7:00pm

Grilled wings + Forever Single + cigars = Stanley Cups
See you on July 1st!