Screamin' Danger Pinned and Tapped at Carson Street Deli Thursday Night!
It's been a few weeks since our friends Coheed and Cambria played an absolutely phenomenal show at Stage AE. It was one of the better shows I've attended in recent memory and, without question, the light show that accompanied the music was the coolest I've ever seen live.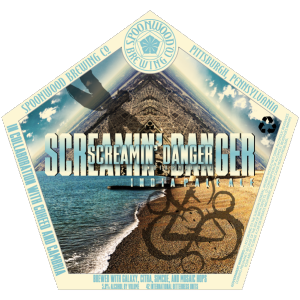 Myself and our brewers Steve Ilnicki and James Evans had the opportunity to hang out with Claudio Sanchez, frontman for Coheed and Cambria, for a few minutes as well. It was the culmination of the collaboration project between the band and Spoonwood that led to Screamin' Danger IPA, a beer brewed by Steve and James with the style, name, and artwork for the label on an upcoming bottle release provided by the band. The final label (seen right) was designed by Jason Collins.
To say the response to Screamin' Danger has been overwhelming would be an understatement. Fans of Coheed from across the country have contacted us about getting their hands on Screamin' Danger without even tasting a drop while fans of both the band and our brewery who've tasted it have provided solid reviews of the beer right here in town. While we are holding onto hope that we can get Screamin' Danger outside of Pittsburgh to our fellow Coheed fans, we are still looking to keep fans in local proximity well-imbibed with this juicy, aromatic IPA.
The night of Coheed's performance at Stage AE at the beginning of March, we joined forces with Rivertowne North Shore to throw one wicked fun Screamin' Danger tapping party prior to the concert. All of the members of Coheed joined their fans and I had the opportunity to lead the toast with everyone in attendance standing along side the band. Definitely one of those moments I won't forget. Thank you to everyone who was able to attend that pre-concert event!
Outside of that, Screamin' Danger hasn't found its way into the wild craft beer jungle of Pittsburgh all that much. Our friends at Pig Iron Public House had it first, we did a firkin of it for Caliente Pizza & Draft House in Hampton, and it will soon be hitting the taps at Fat Head's Saloon. And in just a few days, we are teaming up with the South Side's Carson Street Deli and Craft Beer Bar for another night of Screamin' Danger fun!
This Thursday, March 24th, from 6-9pm, we'll be on-hand at one of Pittsburgh's most fun and locally-focused craft beer bars with a special firkin of Screamin' Danger AND a tap pouring pure Coheed-inspired goodness. Hydra Slayer, our new hoppy red ale, will also be dispensed to service your hop-craving palate.
And, who knows…maybe I'll sneak in a couple other samples as well.
In case you haven't heard, Carson Street Deli is home to some of the best sandwiches in Pittsburgh. Every bite is an explosion of pure culinary excellence in your mouth that would have the Earl of Sandwich turning cartwheels down East Carson Street. Kinda like that guy outside of Jack's on Saturday night…but I digress. Put these sandwiches along side a carefully thought-out craft beer selection and it's pretty much a lock you'll be leaving with a smile on your face.
Hoppy beers, friendly folks, and some of the best sandwiches in all the land. Yep, that's right…we just planned your Thursday night.
You're welcome.