Giving Dad His Props
As we roll into June, we prepare to bask in the glory that is Summer. Temperatures may have been generously warm prior to today, but there's something reassuring about flipping the calendar and knowing the warmest days of the year are ahead of us. Barbeques, golf, hiking, baseball, a potential Stanley Cup parade, and a tremendous amount of other outdoor activities are all in sight. Yes, it's time to break out the sunscreen and soak in the rays!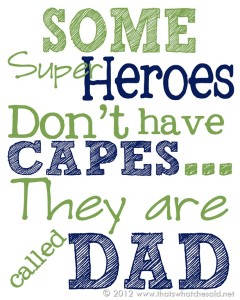 This month also brings us the time-honored tradition of honoring our fathers. Father's Day is on Sunday, June 19th and dads around the world get a special day to revel in all the joys fatherhood brings. Speaking from personal experience, I know I've leaned on my dad my entire life for guidance, leadership, advice, and friendship…and he's never disappointed. I've always looked at he and my mom as true heroes and know I wouldn't be who or where I am without them guiding the way. The homage we pay these incredible people in our lives, whether they're still with us or have passed on, extends beyond both Fathers and Mothers Day.
That said, we are human. We are always looking for a reason to party. So let's do it right!
This year at Spoonwood Brewing, we are raising a pint to fathers across the Pittsburgh region and inviting you down for a glorious day of brunch, steaks, beers, and golf. Fathers Day kicks off with Brunch from 10:30am – 1:00pm (make your reservations here), followed by a Fathers Day Dinner Special fit for THE king from 3:00pm – 8:00pm. Dad will enjoy a 10oz. Bone-in Strip Steak with Evolution's End Stout Steak Sauce along side Whiskey-roasted Fingerling Potatoes and Shrooms and a beer of Dad's choosing. And if Dad would like to have a second or third beer, we encourage that…he's earned it.
In addition, Spoonwood is teaming up with the Parkinson's Foundation of Western PA to host a Hole-in-One Fundraiser in our side yard adjacent to the patio. Dads will have the opportunity to purchase three balls for $5 and, if he can chip a hole-in-one from 20 feet away, he'll win a $20 Spoonwood gift card! Proceeds will go to the Parkinson's Foundation. This competition will run from 11am – 7pm Sunday.
Plus, Fathers Day marks the final round of the PGA's prestigious US Open, being contested this year at Oakmont Country Club just outside Pittsburgh. We'll have final round coverage on the big screens all day long.
Fathers Day is the time of year to let that figure in your life know how much he means to you. You bring the love, we'll supply the beer, food, and fun! We look forward to having you and your family in the house for this event.
Cheers, and Happy Fathers Day!