Do You Even Jenga, Bruh?!
Compete in Spoonwood's First-Ever Really Big Jenga Tournament During Pittsburgh Craft Beer Week!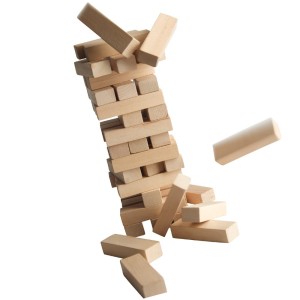 If you've visited the Spoonwood Brewing taproom before, you may have noticed an adult-sized version of Jenga tucked away in the far corner of the dining room. And if you didn't see it, perhaps you heard it as someone's Jenga fate met an ill-timed demise as their tower came tumbling to the brewpub floor.
Jenga is one of many cool ancillary reasons to visit Spoonwood (we prefer to lead with the beer and the food, but Jenga is a lot of fun, too.) and we want to take that fun to another level by finding Pittsburgh's best Big Jenga player. Do you have what it takes to compete with a group of your Jenga peers in an effort to become Spoonwood Brewing's first-ever Really Big Jenga Champion?!
Pittsburgh Craft Beer Week is the time and place to make this happen and we want YOU to join the tourney. On Wednesday, April 20th, we will host Spoonwood's first Really Big Jenga Tournament of Champions starting at 7:00pm.
The rules are simple. You will be seeded at random in the tournament. Play Jenga just like you normally would. Pull out a block, place it on the top of the tower. Repeat. Whoever knocks it down will be subject to extreme ridicule from their friends. Just kidding, it's all for fun! Winners move on, losers get to hang out and enjoy some solid beer and food.
At the tournament's conclusion, whoever is the last Jenga player standing will receive a very sweet Spoonwood prize package!
There is no entry fee for this event. You must be 21 to participate!
We are only accepting EIGHT participants into this inaugural tournament, so don't hesitate in signing up.
Speaking of signing up, that's also easy. Simply email me at [email protected] and I will add you to the list. Or, ask your bartender or server to get you signed up the next time you're in to visit. Again, the first eight will represent the field. Any signups after eight will be placed on an alternate list in case someone can't attend unexpectedly.
Once the field is filled, I will get an email group started so we can all communicate (and hopefully talk a little Jenga trash to keep things interesting as we move towards Pittsburgh Craft Beer Week).
Bring your family, bring your friends, and get ready to test your mettle in the Jenga thunderdome!!!