6 Reasons To Join Us For Our Second Beer & Food Pairing
Back in September of 2015, we began a tradition at Spoonwood that showcased the skills of our chefs and brewers while giving you a wonderful opportunity to get to know us a little better. It was our very first Food & Beer Pairing and the night was exceptional. 40 craft beer and food enthusiasts came together to enjoy the creations of Executive Chef Jeffrey Simpson and Head Brewer Steve Ilnicki as both worked meticulously to present six courses paired with the perfect Spoonwood craft beer.
Now, as 2016 is well underway, we are happy to bring you our second Beer & Food Pairing on Tuesday, February 9th. Once again, the idea is to give you a real taste of what Spoonwood Brewing is all about. This meal will be five courses and feature culinary and brewing creativity that's certain to give your palate a jump start.
Here's what will be served at February's dinner: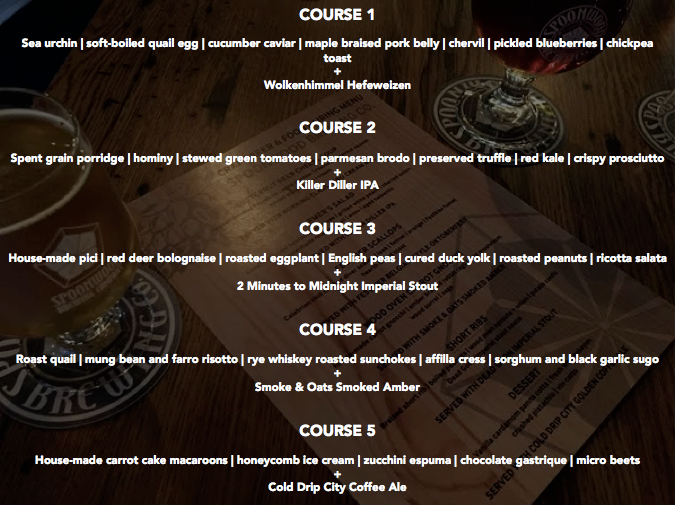 This is one of those unique experiences that's tough to replicate every day. Jeffrey puts hours of time and effort into constructing the Spoonwood menu and this dinner will give you an exclusive taste of his abundant talents.
You can click here to grab your tickets before they sell out. And, in case you need more reasons to join us on February 9th, here's six of them…a complete breakdown via photo of the six courses we served back in September!